Dimensions: 4' x 4' Materials: Latex & acrylic on wood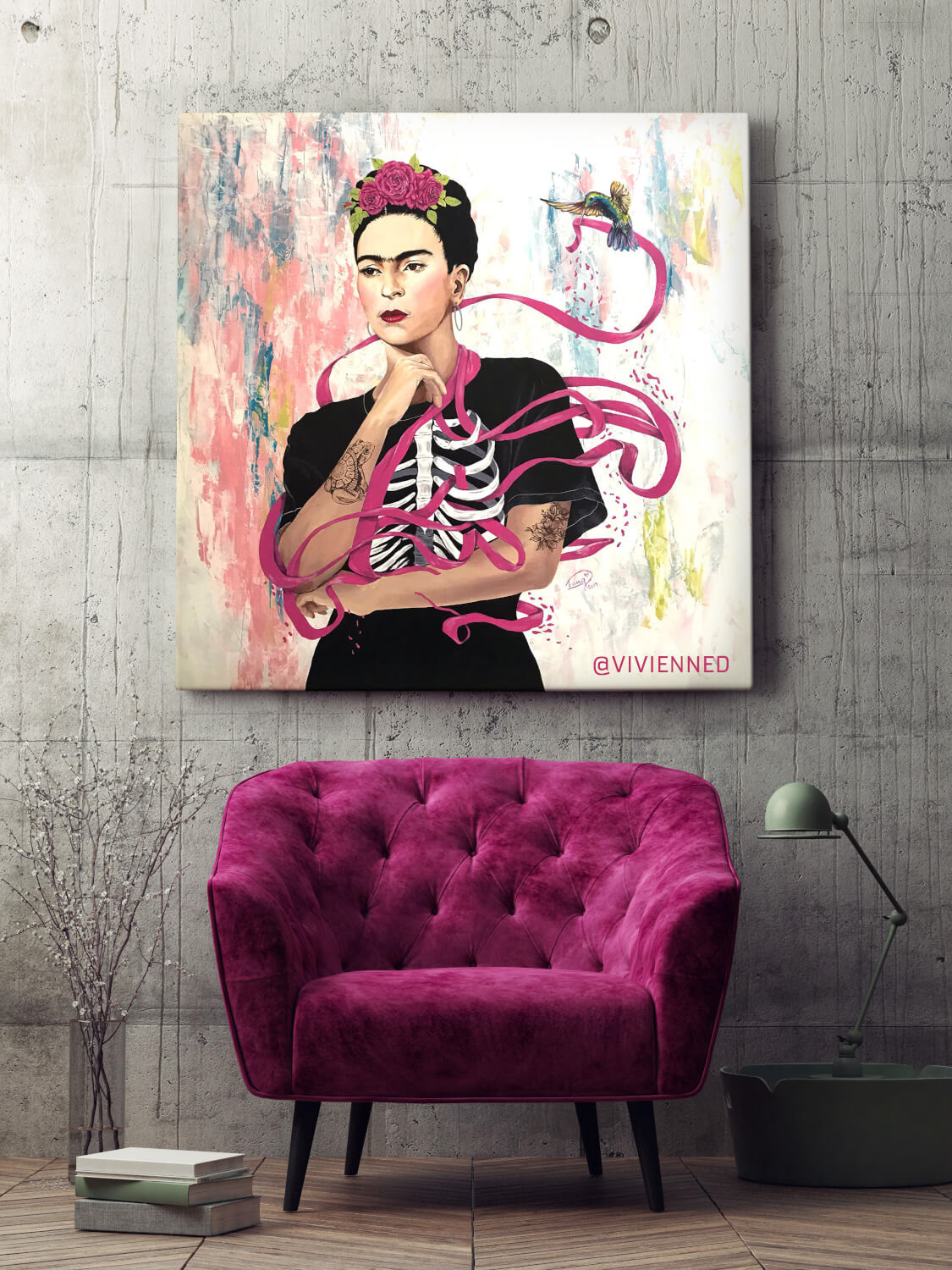 Mexican artist Frida Kahlo is often remembered for her bold, passionate paintings and self-portraits. This mini-mural is Vivienne's tribute to Kahlo's most celebrated attributes: her love of flowers adorning her hair, Kahlo's favorite fuchsia ribbons flowing through her body, and her love of intertwining reality with surrealism. Kahlo's strong stance represents a remarkable woman who persevered despite living in immense physical pain for most of her life. Kahlo is also seen here with a tattoo on her right arm; denoting Kahlo's undying love for artist Diego Rivera who she called "el sapo-rana" (the toad-frog). Dang has transformed the dark and lifeless hummingbird from one of Frida's most famous paintings (Self Portrait with Thorn Necklace and Hummingbird, 1940) in this painting to how we see her now: vibrant and full of life. It is flying high, unapologetic, and lifting Frida's ribbon of life.
Why did you want to participate in "Night of 1000 Fridas"?
​​​​​​​
"Frida set an example for all of us to speak truthfully about pain and vulnerability; that it's okay not to be perfect; and to paint anytime I can." -Vivienne Dang

This painting is done by Vivienne Dang in contribution to the public art project of "Night of 1000 Fridas". On January 25, 2019, artists and amateurs around the world will place depictions of Frida Kahlo out in public, or in places free and accessible to the public, to celebrate "Night of 1,000 Fridas". Anyone is welcome to join, and you can take part from anywhere. Your contribution can be visual art, a performance, or anything you can think of! Please use the hashtag #1KFridas to follow the progress of the project on social media.